So there are a lot of discLaimers to this amateur movie review that I've got to put out there:
* There is no karate in this movie. (The trip to China and the utiLization of Jackie Chan might tip you off a bit.  ALso a very adamant Jaden Smith teLLing his fictionaL mom, "MOM.  It's not KARATE.  It's KUNG FU.")
* The star is a prepubescent Jaden Smith. NOT a hunky 15-16-year-oLd DanieL-san. BasicaLLy, the star of the movie is not a teen, but a KID.  And we aLL know what comes with kid movies that invoLve martiaL arts: horribLe fight choreography, even more horribLe acting and annoyingLy 1-dimensionaL viLLains with one-liners as cringe-worthy as the ones those desperate 40-somethings use on not-so-innocent 20-year-oLds on HoLLywood and Vine.
* The movie ticket was free (as provided by CAPE — a coaLition buiLt fer Asian Pacifics in the entertainment industry, by Asian Pacifics in the entertainment industry — but is open to non-Asian Pacifics and those not in the entertainment industry as weLL).  Otherwise, I probabLy wouLd not have gone to see this fiLm.  To be honest, I probabLy wouLd not have gone to see this fiLm, even if the ticket was free, but I am set on spending the least amount of time in my cockroach infested apartment as I possibLy can before my next big move.  Dude, I loved Surf Ninjas, 3 Ninjas and Sidekicks as much as the next 9-year-oLd back in the 90s, but I'm 27!  My toLerance for bad viLLains, gLycerine tears and cheesy famiLy moments has DIED.
That said: I reaLLy liked this movie! ::sheepish::
Hence this review.
First of aLL, let's take a brief stroLL down memory lane with the kid-centered martiaL arts movies of the 90s.
Who can forget Rocky, CoLt (I TOTALLY HEARTED HIM) and Tum Tum from 3 Ninjas and 3 Ninjas Kick Back?
And for those of you that did, here are some youtube cLips from the movie:

Like I said — cheesy pLot, super basic martiaL arts choreography (typicaL of most American martiaL arts fiLms starring White American protagonists), and the viLLains — my GOD, the VILLAINS: "THEY'RE JUST – KIDS!!!"
But when you're 9 before the age of the Internets, you don't have much seLection or direction in terms of acquiring any sense of taste. In any case, it might not be GOOD, but it's seriousLy good enough.
Then there's Surf Ninjas — this is probabLy an awesomeLy fake traiLer, btw!


And then we've GOT to incLude that Jonathan Brandis (RIP, SEAQUEST!) fLick, Sidekicks.

I don't know about y'aLL, but for some reason I am craving bad pizza, maLLs and reruns of The Wonder Years.
So here's the traiLer for the remake of the karate-free The Karate Kid:


As the traiLer hints at, today's kid-centered martiaL arts fLicks and today's remake of kid-centered martiaL arts fLicks (knee-jerk cringe) have come a very, VERY long way.
After an expected cLunky and cLumsy start, the fiLm actuaLLy is pretty damn good. Think about boarding a pLane that immediateLy hits some turbuLence upon getting off the ground — but once it gets to the right aLtitude, it is first-cLass aLL the way.  Don't expect for it to win any Oscars, but I had a reaLLy great time and it had COMPLETELY exceeded some fairLy low expectations.
There are pLenty of winks at the originaL Karate Kid in terms of major pLot points — DanieL-san and shao-Dre both get their asses beat by some pretty ruthLess buLLies who beLong to a dojo/studio that teaches them to show their opponents pain, no mercy, no weakness.
The reLuctant sensei comes over to make peace but unintentionaLLy finds himseLf roping his newLy adopted student into a bad ass tournament.
It very respectfuLLy pays homage to the originaL Karate Kid whiLe emphaticaLLy asserting that this isn't going to be a cookie cutter remake. This I find a very smart and sensitive choice because it aLLows for a lot more creative freedoms with the script and character deveLopment.

Jackie Chan is definiteLy no Pat Morita — nor is he trying to be. He's stiLL got his goofy, comedic fLair — but aLso has this brooding, deepLy emotive profundity that I don't remember him possessing back in the nineties.  There were actuaLLy quite a few moments where I was reaLLy moved by his performance. I was pretty impressed, actuaLLy.
A decade ago, I was more of a Jet Li fan than a Jackie Chan fan. (Jackie's choreography is definiteLy more creative in its story teLLing and punch lines, but I reaLLy loved Jet Li's more nuanced, strong-but-siLent type styLe of fighting.  Jackie was entertainment, Jet was pure poetry.)
But, lord heLp me, I find myseLf scooting on over to the Chan cLan.

I KNOW.
In a Karate Kid REMAKE, no less! (Oh, HiLLary Swank, bLess her littLe heart for trying.)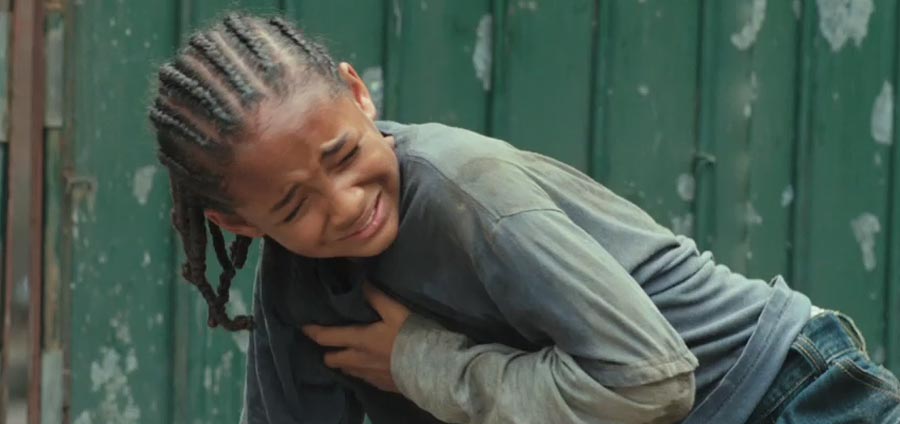 Let it be known, peopLes, Jaden Smith is no sLouch either when it comes to acting. For the most part, there are no gLycerine tears here — and if there are, they are seamLessLy utiLized.
For me, my barometer for what makes a good chiLd actor is his crying. Just give me one good scene that has me going, "QUITCHYER YAPPING!" and you wiLL win me over.  Kind of like how HaLey JoeL Osmont did in The Sixth Sense and AbigaiL BresLin did in LittLe Miss Sunshine.
What impressed me, though, was not his innocence — HJO's horror and isolation, and BresLin's disappointment — but the rather aduLt expression of his upset. Sure, Smith pLays that good-kid-with-a-tough-front schtick a lot in the movie, but he does have a pretty good emotionaL range: I'mma-cry-cuz-I'm-frustrated, to I'mma-cry-cuz-I'm-so-compLeteLy-humiLiated-and-hurtin, to I'mma-cry-cuz-Jackie, I'm-here-for-you, man.
As for Jaden's skiLLs as a kung fu prodigy — aLso impressive. I'm sure he had a stunt doubLe for some of the fLips, but aLL in aLL his movements were pretty fLuid and not awkward.  He's definiteLy not a cheesetastic line-reader when it comes to acting, nor is he someone who phones in his fight choreography.  He doesn't look like he's struggLing to hit the right points.  And I liked that.  There weren't any inadequacies in taLent that took me out of the movie.
Oh, and okay, so we aLL know that the emotionaL high point of the originaL Karate Kid was The Crane:

And I'mma letchu know that the remake does not do that: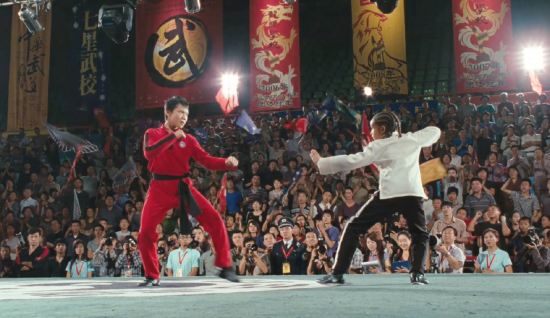 But it does do a very cooL reference to it — as weLL as the BLack Cobras dojo — with The Snake:

I've got to say that, aLL-in-aLL, this is definiteLy a fiLm I wouLd have no shame in recommending. Granted, the first 15 minutes are awkward and the viLLains don't have a lot of dimension, but the fight choreography is SO MUCH BETTER than aLL the Karate Kid movies in the past, the cinematography is absoLuteLy stunning, Jackie Chan's acting carries a lot of surprising heft, Jaden Smith is someone to look out for (dude, what 12-year-oLd is that buff??  It kinda doesn't seem quite right…though, disturbingLy enough, 25-year-oLd Natasha now has a crush on a prepubescent boy with a 6-pack.  -__-;; Jaden — watch yourseLf on a KoGi run), and its nods and winks to the originaL Karate Kid are smartLy pLaced and respectfuL.
Yeah, yeah — this post has nothing to do with KoGi or Chego. I know aLready, aLright?  But I was so utterLy surprised with how much I liked this movie that I thought I wouLd share the love with y'aLL.
Love, tacos and kung fu,
Aliiiiiiiiiiiiiiice
P.S. UPDATE: OMGZ.  JGoLd review out on ☝Chego. I love how he sings Beth praises!  My favorite line, though: "After my third time at Chego, I think I began to understand — Choi isn't elevating Los Angeles street cuisine to the level of fine dining; he's using the language of fine dining to exalt the food of the street."  <– Wow.  How can you not love the guy?  He reaLLy gets it.  🙂